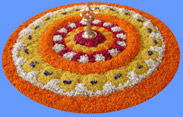 Onam is my most favorite festival. It is the most attractive and colorful festival of Kerala, India. It is the harvest festival of Kerala. Irrespective of cast, creed, religion, all Keralites celebrate it now as a national festival of Kerala and it is part of the cultural repertoire of every Malayalee.

I am sure many of my friends abroad are interested to know more about Onam and please accept this as my Onam gift.
The main item and the first course is rice with a number of side dishes such as curries, upperies (fried dishes), pappadams (round crisp flour cakes), uppilittathu (pickles), chammanthi (chutney), Erissery, Kootucurry, Kalan, Olan, Aviyal, Thoran Pachhady Kichadi etc and then Sambar, Rasam, payasams and prathamans (puddings) arranged in a definite order of sequence. All items are served on a banana leaf laid in a particular way. Fruits mainly plantain, are also served.